WELCOME TO A Murder of Crows
We're the largest and longest running SOA rp out there and have been active since 2013! We love and are extremely dedicated to not only the fandom but also allowing our members to expand on the universe with their own rich and dynamic plots. We are a community first and foremost and recommend guests popping into the cbox to ask us any questions. No question is too silly!
We'd absolutely love to have you as part of our crazy family, please be aware that this site is intermediate to advanced and is STRICTLY 18+ due to the mature content on this board. Happy viewing friends!
03/06
IC Month now changed to March and April 2014
10/04 New and simplified application template now up!
06/04 Glitch fixed, feel free to fill in Mini Profiles.
05/04 Working on the Mini Profile glitch, will let everyone know when it's sorted.
04/04 New skin YIPEE! Please let Bex know if you see any glitches in the skin. You have two weeks from now to sort out your character's mini profiles, my apologies for the change in avatar size! Hope you enjoy the more up to date look of AMoC!!
Sons of Anarchy
Tig ol' bitties
Twenty-Seven
Straight...but...like Lana Del Rey tho
Married to Ray Jay
Site Admin
No Alliance
PRE AUGUST 2012:

Jax approaches Nero Padilla and Maxwell Cylas to help run and co-own Cara Cara, believing that the place needs new management and wanting to further the company's productivity and monetary returns. Max is a former porn star and also grew up in Charming with Jax and Fawn Trager, while Nero a former gang banger and owner of the popular brothel Diosa, also has a particular set of skills to lend to the studio.

While part of SAMCRO is in jail Jax and Clay are attacked by men part of the Russian Bratva, Russia's version of the mob. Clay is killed and Teller is left with sizeable scars on his stomach. The men are left reeling that their former President is no more. Jax is unofficially sworn in as the new President, while Bobby watches over the club on the outside. A few more SOA members come over to the Charming charter in order to bolster ranks whilst the other men are in jail.

Four months later, Jax and the other SAMCRO members are released from prison after 14 months for federal weapon charges. They return home where Jax takes over the Presidents seat and Opie becomes VP, with Chibs as Sgt-at-Arms.

While the SAMCRO boys were in jail, the Carson City charter faced issues of their own. At the beginning of the year, disgruntled at their presidents bid to go legit, a large portion of the SAMCAR sons left the MC and began their own gang called the Wild 1's. This new MC runs cheap pussy and helps the Bratva supply drugs in and around Las Vegas.

Max and Nero is attacked late night at Cara Cara, this brutal invasion sees Nero's sister, Carla murdered and Max horrifically raped. The assailants turn out to be the Eighth Street Loco's, enemies of Nero's former crew Los Perdidos, who still believed Nero was part of the gang.

Priscilla and Lincoln buy out part of SAMCRO's share of the brothel Porte Rouge meaning there are now three owners of the establishment – Diana Collins, SAMCRO and Priscilla Thompson. The club now part own a Burlesque club, a porn studio and a brothel – the trifecta of pussy.

Two weeks after the boys are out of jail, a devastating blow occurs, one which indicates that the attack in jail was just the calm before the storm. The SAMBEL clubhouse is blown up, killing numerous including Presley Wade's baby brother and former SAMLON Son, Noah Wade.

SAMCRO club and most other charters are put on lockdown.

There is a war brewing on all sides, the Bratva trying to decimate the Sons of Anarchy MC in order to solidify and ensure no roadblocks on their way to becoming kings of the drug world in Nevada and California . The Wild 1's are hell bent on destroying SAMCAR due to a personal vendetta and now it seems that the Eighth Street Loco's are venting their aggression on anyone associated with Nero, even if that means the SAMCRO club ladies.


--------------------

Sons of Anarchy
Tig ol' bitties
Twenty-Seven
Straight...but...like Lana Del Rey tho
Married to Ray Jay
Site Admin
No Alliance
AUGUST 2012:

The club is finally out of lockdown but everyone is on edge. The SAMBEL clubhouse is destroyed and the remaining men have set up a temporary clubhouse in a local pub.

Lyla is called to do a seemingly lucrative porn film (as Cara Cara has died down due to the absence of Max, who is still coping with her rape) but it turns out to be a trap and she is brutally assaulted by men who are part of the Eighth Street Loco crew, it would seem the crew is targeting Nero's porn stars.

Jax receives a call from the IRA elders, who bring to light his current fears that the Russians are moving in. By applying heat on the IRA using terrorist like activities the IRA had no choice but to not only stop supplying their guns to SAMCRO but to also give the lucrative contract to the Russians.
The SAMCRO President fighting a growing wall of enemies calls his VP into the clubhouse and let's Opie know they're going to war.

See: The Trade of Kings

Dawn Trager lets slip to Jace that he's going to be a father.

Completely broken by the death of her brother Noah, (who was killed in the SAMBEL Clubhouse explosion) Presley begins a path of drunken self destruction which ends poor Conner having to pick up the pieces. However this night is much different and it ends with a very dark ultimatum given to the Son - Give Presley a child or watch her blow herself away.

See: And I See Fire

A strain is beginning to appear on the marriage of Clint and Sadie Matthews, the King and Queen of Carson City. Left childless Clint is forced to time and time again prove his love to Sadie who finds herself completely devastated at each failed attempt to conceive a child.

After finding out that there is no possible way to ever have children together, Sadie is dealt with an even crueller blow when she is told that it [i>is[/i> possible to have a child with a man other than Clint. Desperate and frantic to keep her marriage alive, Sadie begs her oldest and dearest friend Johnny Iversen (SAMCAR Sgt at Arms) to give her the gift of a child so that she can pretend it's both hers and Clint's. Johnny is left with the heartbreaking decision of whether or not to betray his President or give relief to his best friend. In the end Johnny's love for Sadie wins and he sleeps with the SAMCAR matriarch.

When Rocky blows into town, the young runaway is instantly [i>adopted'[/i> by Sadie, however it is her bond with Sadie's younger brother Jakub McQueen that solidifies her ties to Carson. Jakub a young SAMCAR biker comes to Rocky's aid when she is cornered and assaulted by a group of men, however a darkness in Jakub erupts and he ends up killing the men, something that leaves him utterly distraught. However with such a trauma a deep bond is formed and the two young individuals end up spending the night together. Rafe and Sadie end up disposing of the bodies out in the desert in order to keep both the club and Jakub out of trouble.

Theres a shift in the air as Carson City welcomes another brother into its folds in the form of Jace's long time friend, Darian FitzPatrick. Recently released from prison, the tattoo'ed New Yorker rolls into town looking for a good time and a celebration to catch up on everything he's missed. He finds that at Panheads as he's reunited with his best friend and brother, Jace Evans.

See: Bad Moon Rising

A face from Sotoria's past ends up bringing her and Johnny together when the oldest Iversen's rage manages to spill forth. Usually the calm and collected out of the three brothers, when the Sgt at Arms loses control it takes a lot to bring him back, thankfully his fellow biker brother, Jace Evans is there to calm him down when he nearly beats the man to death. This is the beginning of a very complicated relationship between the SAMTAC club daughter and the SAMCAR Son.

See: It Won't Stop

You know what they say about Vegas. Unfortunately, it doesn't always stay in Vegas and the truth has a way of getting out. Especially when you go looking for a good time and end up married to your brother's best friend as Zoe Evans manages to do. After a night out with the girls that leads to seeing Darian FitzPatrick again for the first time in nine years, Zoe decides to play a trick on the man only to have it go badly wrong when she wakes up with his ring on her finger. Add this to his stunned realization of her true identity and is it any wonder the little blond bolt in hopes of finding a safe place to hide? If Dare's reaction wasn't bad enough, its nothing compared to what Jace's reaction will no doubt be. Damn that tequila anyways.


--------------------

Sons of Anarchy
Tig ol' bitties
Twenty-Seven
Straight...but...like Lana Del Rey tho
Married to Ray Jay
Site Admin
No Alliance
Sons of Anarchy
Tig ol' bitties
Twenty-Seven
Straight...but...like Lana Del Rey tho
Married to Ray Jay
Site Admin
No Alliance
Sons of Anarchy
Tig ol' bitties
Twenty-Seven
Straight...but...like Lana Del Rey tho
Married to Ray Jay
Site Admin
No Alliance
NOVEMBER 2012:

Presley has a scare and is rushed to the hospital, where both she and Conner find out that they'll be blessed with twins.

Teller-Morrow Auto Shop has two of its bays damaged due to two car bombs going off during a Lockdown. Piney Winston and Mikayla Campo's Daughter are both killed during the chaos. Fawn Trager, Conner Selwyn and Chibs Telford are all rushed to hospital.

SAMCAR and SAMLAS, using intel obtained on the streets, head out to trap the Bratva and The Wild 1's in the middle of the desert. Turns out it was them stepping into the trap and during the battle many fatalities are incurred on both sides, however the Russians were never there and the rival MC gang The Wild 1's are all but obliterated. Victory is short lived however when both Presidents receive a call from Jackson letting them know it was all a ploy to get them away from their respective clubhouses.

Panheads is burned to the ground, the SAMCAR Sons getting there just in time to save the women trapped inside. However Sadie is fatally stabbed and when Clint goes into save her from the inferno, both lovers lose their lives along with Jakub McQueen.

Back at SAMLAS the Clubhouse is infiltrated when one of the supposed "dirty" cops on SAMLAS payroll betrays them. Two vans roll in and kidnap a number of the Club Ladies aiming to sell them to the highest bidders. Their plans are thankfully stopped due to the heroic actions of the SAMLAS Sons. However it comes too late for Club Daughter and Manager of The Pony Club, Jimmy Bouchard who is fatally shot.

Funerals are held for all those who died, Jack Bouchard unable to handle her sister's death disappears to Tucson, leaving Joe dark and broken.

Jax, Marcus Reed and Joe Hennessey make their way to Carson City in order to sort out the now devastated charter. With SAMCAR being so small the Presidents give the Carson City Sons a choice, they can either go Nomad or transfer to another charter. SAMCAR will be no more and it is hoped that with the now open territory Vegas gangs will encroach and alleviate some of the pressure placed upon the SAMLAS charter.

Jax holds a Church meeting letting all the Sons know that if they want to get out, now is their chance because from here on out it will be nothing but war. Mitchell Brooks also lets Teller know that the new Mayor is gunning for them and is aiming to pass a bill preventing the MC from wearing their patches out in public within Charming.


--------------------

Sons of Anarchy
Tig ol' bitties
Twenty-Seven
Straight...but...like Lana Del Rey tho
Married to Ray Jay
Site Admin
No Alliance
Sons of Anarchy
Tig ol' bitties
Twenty-Seven
Straight...but...like Lana Del Rey tho
Married to Ray Jay
Site Admin
No Alliance
Sons of Anarchy
Tig ol' bitties
Twenty-Seven
Straight...but...like Lana Del Rey tho
Married to Ray Jay
Site Admin
No Alliance
MARCH 2013:

After weeks in Prison, the girls are finally released. SAMCRO's legit businesses begin to re-open, though it has still put a financial burden on the club.
Tig's funeral is held the day after Fawn is released from jail. At the service after, another horrible truth is revealed to an already distraught Fawn. Quinn, her first love and the man she'd just reconciled with, had a child with Nora Shelby, the second in commander of Butcher's Crew. Fawn cannot take it and takes off to Tucson seeking comfort from the other Delaney bastard, Levi Mercer.

See:

Have The Graves Won Again?

The Mayor sends out his Private Investigator to dig up dirt on the SAMCRO Sons. What he finds is more delicious than anticipated after Zak Sampson, a Prospect is found out to be having clandestine homoerotic interactions. The Mayor uses this information to blackmail Zak and find out where a shipment of Cartel guns is going.

See:

The Pin On The Grenade

After being tormented by his thought to be dead wife, Brodrick Kincaid - SAMLAS VP, and Elizabeth Kincaid finally come to blows. She wants him all for herself and is now completely deranged, even admitting to Inka she deliberately killed their child. Using the VP as bait she lures Inka to an abandoned warehouse wanting to kill Brody's Old Lady in order to solidify her place as Kincaid's wife once more. Not one to go down without a fight Inka ends up stabbing Lizzie to death but is shot in the process. Both Brodrick and Inka suffer life threatening gunshot wounds and are rushed to hospital.

See:

The Wages Of Sin

Kai and Bran are attacked on the streets, outnumbered and set upon by five men, Kai calls for her Cyrus and he swoops down like Hell. One man is killed the rest allowed to flee in order to report back to their boss, while one poor soul remains behind. Kai and Cyrus then torture him for information and find out that a rival Pimp operating a few neighbourhoods down, is the reason for the attack. An all out war could be brewing as both Pimps protect their territory.

See:

She Demands A Sacrifice

The SAMCRO shipment of Cartel supplied guns is heading to Vegas. The Butcher wants to beef up gun power in order to not only keep his burgeoning drug business with SAMLAS safe, but also keep any Russians at bay. His eldest daughter Nora and the rest of her closest associates, including younger sibling Naudia, are ordered to meet Jax and Opie but things go south. The Russians found out what SAMCRO was up to and circumvented the delivery of the weapons. But it was all a mere trap to ensure Nora and her people weren't offering back up to her father, who was waiting in his meat packing warehouse. The group figure it all out and high tail it over to Shelby Meats Inc Factory where inevitably all Hell will break loose. And Maggie sets off a chain of events no one could have planned when she saves Nora's life by shooting a seemingly anonymous Russian. How wrong she was, how wrong they all were. This deceased was the youngest child of the head of the Bratva.
During a quick trip to Lodi in order to pick up adult supplies, Max and Bonnie are attacked by the Eighth Street Locos who ram their car and cause them to have an accident. Max asks Bonnie to keep it a secret and tells Jax it was a simple car accident.

See:

Nothing More Cliché Than Broken Ol' Ladies

During an attack on a Aryan Brotherhood house, Eli Knight, SAMTAZ Secretary is shot and killed, this marks an ending of sorts for any peaceful conclusion between the two groups.

See:

And Behold A White Horse

Flynn Cypher is named SAMTAZ Secretary after Eli's passing.
After days on the road, Jace and Monroe are looking forward to a soft bed and a few hours of interrupted rest. Unfortunately, this isn't to be the case as they are attacked on the way home and find themselves prisoners of The Eighth Street Locos. Bike wrecked and left behind, the Unholy One and his lady are left without transport and endure hours of hell before a stroke of luck draws all but one of their attackers away. In an effort to convince Roe to save herself, Evans tells the blond to do what she has to do to get away but never dreams she'll kill a man to save them both. Once done and on the road in a stolen truck, though, Jace is able to call for back up before Monroe manage to drive them to the edges of Charming.

See:

There Ain't Much Left To Bleed

A record number of Sons and their associates gather at The Blue River Ranch in order to bury Eli's ashes. Everyone mourns and pays their respects for the fallen Secretary. Once the burial is over, Delilah and her two children get into their car at the bottom of the driveway. Horrifically the car is blown up and as Marcus lays screaming beside the fiery wreckage, SAMTAZ knows that nothing will be the same again, as this attack was almost certainly by the WAPG and Aryan Brotherhood.

See:

I've Seen Sunny Days I Thought Would Never End


--------------------

Sons of Anarchy
Tig ol' bitties
Twenty-Seven
Straight...but...like Lana Del Rey tho
Married to Ray Jay
Site Admin
No Alliance
APRIL/MAY 2013:

The past month has had its usual drama and chaos. The death of a well-respected SAMLAS Son, Harley Knox at the hands of a fellow patched member (not to mention his illegitimate child) ruffled everyone's feathers. However Joe Hennessey avenged the slain Son and put a bullet in the Nomad.

SAMCRO has still not had their vengeance against the 8th Street Locos but with Butchers Crew as their ally, it is only a matter of time and it'll be bloodier than what the street crew could have ever expected from the MC. Jax is biding his time, knowing he has to wipe the entire gang out once and for all.

James Shelby and his people continue to invade Las Vegas, their relationship with the MC is a profitable one. A fighting ring was just opened up in partnership with SAMLAS and both parties expect to make a lot of money from the dealings.

SAMLAS continue to be the most safe and successful charter. Their numbers grow as does their strength. However things are never simple for the lives of outlaws and now Joe is on the hunt for the rat on the inside of the Vegas PD, the cop who sold them out to the Bratva last year in November.

SAMTAZ has finally purged Tucson of the WAPG. It is a huge victory for the embattled charter but not one that came for free. Allegra Estrada, Cartel leader was killed in the melee, however the affiliation between the Cartel and SAMTAZ stays strong. Everyone benefits from the relationship and Sucio Angeles is making a nice bit of extra cash from the gun contract with SAMCRO.

Enraged over his father's (Harley "Whistler" Knox) willingness to accept Memphis, Nathan a former SAMTAZ Son turned Nomad seeks out vengeance. Retribution for a childhood and a father that he was robbed of. The younger man was always a problem, drugs, inability to follow orders, in some ways he was swept to the side by Harley but his attitude and the chaos that followed him never helped him none. However seeing Memphis, another estranged child, finding the father he'd always wanted, sent Nathan over the edge and he killed Harley at his home. Then he uses the Sweetbutt waiting in his car as an alibi and threatens her life, demanding she tell Joe that she witnessed men leaving Harley's home with Russian style tattoos..

See:

Papa Can You Hear Me?

After the death of his two youngest children and his wife, Marcus Reed sinks further into depression. The SAMTAZ Charter seems set adrift having lost an Officer Eli Ford also. Marcus barely maintains his duty as the President and there is a bleakness to the charter. Henry Morgan (SAMTAZ VP) can't handle seeing Marcus the way he is after his family's death. He goes Nomad and Ford takes over the Moonshine Distillery, it will now be manufactured at the Ranch. Ford is made VP, Flynn Sgt at Arms and Elliot Monaghan (current NPC) is made Secretary.
When a real threat such as the Russians bare down on the Sons, those who cannot handle the life begin to jump ship. This is the case when Ren (SAMLAS Sgt at Arms) succumbs to pressure from his kids and ex-wife. Ren and Bonnie break up, Ren goes Nomad. Cooper Mills, the resident explosives expert becomes the Sgt at Arms.
Nora Shelby and Jax sit down for a meeting. Nora believes the reason the Sucio Angeles gun trade went south was to do with a rat on their end. No one currently suspects the SAMCRO Prospect. Because of this she offers an apology in the form of help to rid the MC of the 8th Street Locos street gang

See:

Do The Right Thing, Do It All The Time

Isaac Washington, James Shelby's most trusted associate begins talks with SAMLAS about opening up an underground fighting ring.

See:

A Bit Of Light & A Touch Of Dark

A few days after Harley's funeral, Jack heads to his out in order to begin cleaning it out. She finds some disturbing letters in his closet between him and a former SAMTAZ Son who had been hanging around Vegas. Jack realises that perhaps this Son is actually Harley's illegitimate child and the reason he's come to Vegas is more sinister and had something to do with the Harley's demise. Jack makes a quick panicked phone call to Joe but gets his voice mail just as Nathan bursts into the house. He forces her to call Memphis, is half-sister of whom he holds deep seeded jealousy towards. Memphis was welcomed in by Harley and Nathan was left to rot. His plan is to kill Memphis and find his vengeance, however Jack's interfering has put a spanner in the works. Eventually Joe arrives to save the day and makes Nathan meet Mr Mayhem.

See:

Don't React

The fight club set in Las Vegas is finally ago. Situated on hour out of Vegas on an old farm, Butchers Crew run the logistics and keep the books while the Sons work security and have a number of their members in as fighters.

See:

The First Rule About Fight Club

The Romeo and Juliet type relationship between SAMCRO Prospect Cami Carmichael and Escort Ophelia Scott, begins to effect the profitability of Porte Rouge. Cami infers with Phi's dates and when Priscilla finally gets a complaint from the customer both she and Jax are livid. The young couple are ordered up to Porte Rouge and are both threatened. Jax lets the Prospect know if he makes another wrong move it won't just be his patch in jeopardy it'll be the safety of Ophelia.

See:

Stay In Your Lane.

Ephraim in a lucky hand of poker, wins himself a dump of a gym. However with the help of Monroe Jakobi, who was a Personal Trainer back in Charming, the gym is turned into a haven for all those wanting to train in boxing, MMA etc this isn't a fancy gym but it's a place where the serious people go to work out. The Pit Gym is also heavily used by those partaking in the underground fights up at Bent Creeks Farm.

See:

The Pit

It had been intended to be a good night to end a crazy one. After the throw down with the Russians in the tunnels, Maggie goes from warm in bed with her boyfriend to tossed in the back of a van. Three Russian goons take her to a real estate community in development, out in the middle of the desert. It is entirely owned and operated through Russian means. They want to talk guns. Tortured and tied up, they are determined to get some information from Maggie before dropping some of their own. Maggie hadn't killed any Russian in the tunnels. She'd offed the big man's youngest, letting her know there was never any intention to let her leave alive.

Maggie is fairly disposable in the grand scheme of things, but Locke is not the kind of man willing to let go. Using what he can scrap together of Butcher's resources, he manages to rescue Ms. Mayhem before she can lose more than a little blood. Their exit was certainly not quiet either, leaving a few dead Russians in their wake.

See:

Oh, No.

The WAPG, a sect of the Aryan Brotherhood and who were responsible for the death of Marcus's family as well as Eli Knight – are no more. Joining forces the Cartel (in order to keep their working relationship with the MC intact) and SAMTAZ open fire on the Skinheads during a party. They framed the WAPG's leader (with the help of Valentine Ming-Lee, James Shelby's head computer hacker) in order to make it seem like in fighting was what caused the war zone. In the process however Allegra Estrada is killed while taking a bullet for Ford. After the death of their leader and prominent daughter of the Cartel, the rest of the "Cartel Models" head back to Mexico in order to figure out their next step - both independently and with SAMTAZ.

See:

Time Brings Us All To Our Knees.

Bernie's been feeling under the weather for weeks, determined to believe a bad stomach is the result of living off bar food. It's only on a whim she decides to take a pregnancy test, and about four sticks later....That bloat is all baby. Those pink lines don't lie! Shaw, clumsy with his enthusiasm, is ecstatic. After over a decade of back and forth, the two will have to put up or shut up. Life certainly chances when you're in the family way.

See:

Maybe, Baby?

It's never quiet in SAMTAZ for long, and closure never comes easy. Alexa, new to SAMTAZ but not new to Killian, left her old life to start new with the Son. Too bad her step-son isn't willing to let go. Abandoning cult-life is never easy, and her old family is determined to drag her away kicking and screaming from her new one. The Family shows up to MC territory, egos on high all around. It's not until one of the cult-y cunts dominos a line of bikes out front that fists (and pool balls) start flying. It's nothing more than boys beating boys until Killian takes a knife to the back of his leg, ending the fair fight as well as Flynn's patience. The Sgt. At Arms pulls no punches, but no one said a word about a gun. He manages to see them off down the barrel of a gun. Only time will tell if this is the last of it.

See:

Come Out To Play

Roman Surkov comes back after six years of deep undercover work in Eastern Europe for Butcher. He brings with him the complications of finding out he'd fathered a child with Nora Shelby, a child she told everyone was Quinn Tiberius'. His presence however brings with it vital information for the MC and Butcher's Crew alike, information that will no doubt effect both organisations in the future.

See:

I'm Meaner Than My Demons

In fighting amongst the Sorensen's continues with Shaw and Sloane going head to head over the way he treats his brothers, Bishop in particular. Bernie who is trying to organise a nice breakfast for everyone has had enough and decides to break the news to the rest of the family about her pregnancy. As can be expected everyone is so overjoyed at the prospect of another Sorensen boy that they immediately ceases their arguments and congratulates the happy couple.

See:

Step Outside But Not To Brawl

After being in jail for five years, Chev McFadden is released from jail, with help from Sloane Sorensen who has battled every step of the way to get him an early release. His return to Hollow Falls is met with a giant party in his honour at the Sorensen home.

See:

The Homecoming King

The newest branch of Cara Cara, Eros, opens in Tucson. Much like Elysium it offers customers a different version of porn so not to step on its parent company's toes. Eros focuses on being a "X-Rated Big Brother" where the cameras are rolling 24/7 and customers can pay for a subscription to watch the girls doing both normal day to day things as well XXX activities. The company is run by Aurelia Cylas, Max's younger half sister, both SAMCRO and SAMTAZ are partners in the business. The Grand Opening is celebrated with a lavish party in which guests can visit and explore the home that masquerades as a massage parlour. At the party is newly freed Son Gus Galloway, who went into jail as a Prospect taking the fall for Ione Winters on a robbery gone wrong. Having received his full patch more complications arise when he finds out that his ex Dhani Lorette has become a little more entangled with the club then he thought.

See:

But We're The Gladiators

Jax finds out from an "anonymous" tip off, that Ophelia Scott's (escort for Porte Rouge) Sugar Daddy is none other than our crooked Mayor's right hand man. After their gun shipment location being blown and a number of club associated ladies thrown in jail on false charges, the SAMCRO Pres has long suspected a rat.

He believes he's found it with Ophelia and threatens both her life and Cami's (SAMCRO Prospect), their romance have gotten them in trouble in the past and now Jax is ready to wipe his hands clean. However Phi pleads her case, swears it was not her and offers to find pertinent information for Jax as to who the real rat really is.

See:

You Have Few Choices


--------------------

0 User(s) are reading this topic (0 Guests and 0 Anonymous Users)
0 Members:
NZ // 28 // Discord = AJ#9942
Greetings subordinates! It is I, your Supreme Overlord. I do all of the admin things on this site by delegating to Bex to do them for me. (It's important to note that I Bex, the REAL leader of the board FORCED this man-child to do this bio thingy under fear of divorce) You can reach me on the site Discord, by PM, Messenger Pigeon and even Messenger Velociraptor.
I also have an unhealthy obsession with Dungeons and Dragons, Critical Role, Macaroni and cheese, collectables and candy mints which are super tasty and delicious and Bex is just jealous (I Bex, hate how many mints he brings home after we visit a restaurant and he ALWAYS leaves them scattered on our desk).
I'm still writing things here because Bex didn't give me a lot of reference on what's meant to go here. Now I'm gonna list some of my favourite shows and movies. Spider-Man: Homecoming, Kingsman, Guardians of the Galaxy, The Losers, King Arthur: Legend of the Sword, Batman Beyond, The Office, Brooklyn 99, Daredevil, Punisher, pretty much any Godzilla movie, giant monster movies in general.
I read a lot of books, my favourite book series is The Dresden Files. My favourite superhero is Moon Knight. Bex have I written enough yet? Can I stop now? (Yes you can stop now, you wanker)
view accounts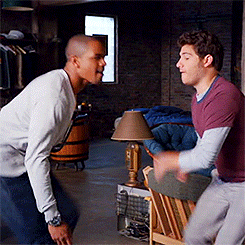 NZ // 27 // Discord = Fruity#1950
Please help me I have birthed this site and like that little shit in Alien Resurrection, it's turned on me and eaten me alive! Did you like that hella niche 90's reference? Are you like me and happen to really enjoy Alien Resurrection even more than the first three, even though your husband threatens to divorce you because of it? If you've answered yes to these questions you're probably contractually obligated to join this site now.
I like doggos and dramatic plots, fuck realism let's do some Young and the Restless shit with our plots, lets go balls to the walls, lets (in the words of Olivia Newton-John) get physical. Let's cry and rage and swear out our plots!! On the flipside happy to do chill threads too. People say I'm indecisive I have no idea what they're talking about.
view accounts