WELCOME TO A Murder of Crows
We're the largest and longest running SOA rp out there and have been active since 2013! We love and are extremely dedicated to not only the fandom but also allowing our members to expand on the universe with their own rich and dynamic plots. We are a community first and foremost and recommend guests popping into the cbox to ask us any questions. No question is too silly!
We'd absolutely love to have you as part of our crazy family, please be aware that this site is intermediate to advanced and is STRICTLY 18+ due to the mature content on this board. Happy viewing friends!
03/06
IC Month now changed to March and April 2014
10/04 New and simplified application template now up!
06/04 Glitch fixed, feel free to fill in Mini Profiles.
05/04 Working on the Mini Profile glitch, will let everyone know when it's sorted.
04/04 New skin YIPEE! Please let Bex know if you see any glitches in the skin. You have two weeks from now to sort out your character's mini profiles, my apologies for the change in avatar size! Hope you enjoy the more up to date look of AMoC!!
Jessen Joyner
, 32 | Criminal
dodge PST 30 Mature? yes Offline Trash Baby Admin
32. Criminal. Jessen
jessen joyner
Known Aliases:
jess, jesse, jessen
Birthdate:
june 4th
Gender:
male
Height:
six feet, one inch
Ethnicity:
caucasian
Sexual Orientation:
straight
Birth Place:
vegas
Current Location:
still vegas
Family:
mother (deceased), father (deceased), older brother (SAMLAS)
Affiliation:
criminal
Occupation:
circus worker/racketeer
"THE RISK I TOOK WAS CALCULATED, BUT MAN, AM I BAD AT MATH"
Thief // It starts with an unsuspecting purse, unattended by the owner. Something simple, something easy. Something that a lie can work with. Money from a wallet is the best. Maybe taking the clutch if it's got a designer label on it. It's the start, one success leads to another attempt. And another. And another. And another. Each crime getting slightly trickier than the last. Thieving, to pick-pocketing, to shoplifting. Juvenile highs, but highs never the less. The idea of hard work begins to slip through the mind. Who needs to work when a sly smile and a quick hand makes you more money than standing on your feet for hours making minimum ever did?
Blackmail // Confidence is key. Confidence is about building yourself up. You accomplish one thing, you believe you can get away with another. Bargaining is where it begins. A little tit-for-tat, until it turns into just tat. It's not just about hacking or knowing your way around a computer, but about the person. Blackmailing a husband about his affair doesn't work if he doesn't care about his wife. But his appearance to the public? And fibbing a little, bending the truth to make the small piece of information to be the biggest scandal. Your hand gets into deeper plots, deeper secrets. Like a real life thriller. A true horror. A click of a mouse, a wink at the girl across the bar. Blackmail isn't only about the information, it's about the performance.
Trespass // It comes with the territory. To 'investigate', to 'scope' out items, treading onto property that isn't yours is part of the job. Not to mention, it adds to the dramatic affect to show up when least expected. Or to take advantage of the stupid when a place is empty. And when someone threatens you with arrest for trespassing is by far the weakest threat around. It's not intruding if you planned on being there. who cares about the other person. Crime isn't about anyone but yourself.
Fraud/Forgery // One step after another, it starts with petty crimes and before your own yees, you see yourself maturing into a true criminal. simple little tricks like fake tickets to an expensive Vegas show. Tourist know no better. A barcode looks like a barcode. Then it's misinformation. Followed by credit card numbers. A few forged signatures then you have a perfectly going knock-off Rolex's to sell to foolish people.
Counterfeiting // But this. This is the grand peek of the top. The sights being set on some of the biggest scam. Creating the non-existent to exist but not really, because it's not real. From the lying, to the stealing; from the trickery, to fooling the masses. Counterfeiting is not only about the in-depth knowledge of what you're trying to recreate but finding the market to push out the product. Whether it be chips or cash, cards or deals, it's a risky business, as with any criminal business. But the bigger fish you try the fry, the bigger your chances of getting in with the criminal masterminds out there grows. Fucking with drugs or sex or guns, it comes with violence and loose mind. Calculated risk are always better than jump first and ask later. The whole point is not to get caught, not be as reckless as possible.
"THIS IS WHY MOM DOESN'T FUCKING LOVE YOU"
I rested on my back on the bed, my arms arrogantly crossed underneath my head, my ankle propped on my bent knee. Completely ignorant of fanatic rattling of the locked door into the room, I saw the cord from the radio leading up to the top bunk. My eyes glanced up at the unappealing mattress underside, the weight of the body above causing the wire lines to bend. The lucky bastard got to the headphones when the roar of yelling started in the kitchen. But then again, the winner of the game was always the one not getting yelled at. The downside of that system was it was usually me getting the violent attacks from our mother.
The muted screaming from the other side of the door began to die down, along with the shaking of the knob, a hand on the entry knob of the room trying its best to break into the safe space. One would think she would have taken the locks off the door by now. No, at least dad was on my side, or our side. There was one last 'wish you were never born' at the door before finally silence fell over the room. For the first time since entering, I heard my brother humming to himself to whatever song was playing on the radio.
There was no need for him to ask what I did. Detention, in-school suspension, marks on a permanent record that didn't matter. At fifteen years old, I had already caused so many problems at school. I'd say it was the stereotypical high school movie cliche, where my older brother was the muscular jock who befriends everyone and every girl wants to get with, and I was the underrated, shy nerdy brother who had no friends and was constantly overshadowed by the achievements my older brother. But no, we were no cliche. Most people didn't believe us to even be related.
I was the charismatic one with an aura that just drew people to me. I was no star football player or track team hottie. I wasn't even some talent band nerd. I was just attractive, in ways that didn't match celebrities. Sure, part of it may have been my intelligence at first. I was quick at problem-solving and adapting to the situation. My advise was the advise to follow. I was the Van Wilder of high school. But as many people hung on my every word, thought of me as 'cool', 'hip', and 'mysterious', I had no friends. Outside of my brother, no one dared to get close enough to make an impression. My words were not trusting. I had no problem tossing someone under the bus. Not even for my own benefit, just because I felt it was the best next move for whatever reason. The teachers rarely trusted my word, noting to my parents many times I was a conniving individual. There was a push to move me up to more challenging classes to see that would occupy my mind, but my record was beyond tarnished. A troubled fifteen year old, bored out of his mind, efficient problem-solver, but thoughtless of others, trouble-maker, and unresponsive to punishment. Not exactly a promising application to college entry-level classes.
Let alone, my mother would never let me receive such a reward. I was no golden boy son. Nor was my brother. We were the burdens to her sunny, white picket-fence life. Never kept us down. If there was one thing we did, it was doing our own thing. Eighteen couldn't roll around quick enough to finally get our retreat. The yelling had begun to increase at the door once more, the second round of anger pouring off of our mother as she cursed my name. I stared up at the bottom of the top bunk as an arm slid off the side. Through all the racket, all the yelling, he managed to fall asleep. I sighed, closing my eyes to do the same.
"DAMN JACKIE, I CANT CONTROL THE WEATHER"
"In the name of God, I, Jessen Joyner, take you, Leslie Smithens, to be my wife..."
We met early in my career with one of the many local dinner-and-a-show routines I worked. I was a stage hand, she was a young performer, determined to make her mark on the world. The crew was drinking back stage with the new hires when she declared her goals. Most laughed. Others silently agreed but were knowledgeable to know not to mention such ridiculous dreams. Only I commented only how quickly that dream would die, like a shark in the Nevada desert. She didn't appreciate that. She threw her half-full can of cheap beer at me and missed.
"...to have and to hold from this day forward..."
The less interested one was in her, the more she was drawn in. It started with scolding glares and eye rolls, but I saw how she couldn't take her eyes off of me. The show had a six month run before the next load of Vegas propaganda came to redesign the venue with yet another trending idea, but she had another show lined up, as did I. The rotation of employment of show life was always turning. The after party of the last show was a night to thrown down. In fact, she threw a full beer at me, hitting me smack in the middle of my back. Months of minimal exchanges and as I turned around to berate her once more, her lips collided with mine. Apparently, she had thought there was chemistry. I didn't.
"...for better, for worse, for richer, for poorer, in sickness and in health..."
Who I was to her in her mind was not who I was in reality. I should have acknowledged that at the beginning. She built me to be this mystery man like a piece of arm candy to her gal-pals. My experience led me to one of the ever popular circus acts in town, working front-of-house staging. She thought it meant more money and s steady job; no more contract work. She'd sneak peek into my wallet, my drawers, finding various jewelry, cash, drugs. Her hours dwindled; her lean on me began to grow. That lean was all based on lies as she took more and more from the money and trinkets I took from unsuspecting tourist. She never realized the show was nothing but a cover for thievery, a small criminal connection of petty crimes. She just thought the diamond ring I had in my pocket was just for her.
"...to love and to cherish, until we are parted by death..."
I stood in front of a mirror that day, adjusting the bowtie around my neck. Usually it was the male that struggled with the idea of marriage, bound by the heterosexuality lifestyle that threatens one's future. The idea of marriage didn't stop me. I was beginning to put my foot in the door with an underground world in Vegas. I was working for no one but myself, yet mere doors down, my bride was putting on her veil, smiling at girl friends at the happy day, marrying a man she only knew the surface about. Who was worse: the girl who was about to vow her life to a man she created in her mind and simply found a body to fill it, or the man who hid more and more under the rug from her for the possible self gain in the future?
"...This is my solemn vow."
"AND THEY WERE ROOMMATES" OHMYGOD, THEY WERE ROOMMATES
"The house was like a wanna-be eurotrip paradise with roman inspired architect. And the outdoor area. Spared no expense as they say in that dino movie. Plush couches just off this majestic pool that has a fucking baby spitting water at the end. The bubbling hot tub just off the end of it, you just see the steam rising off of it... Yeah, I'm chilling on the couch out here, crack into the bar and made myself a martini. This was the life I was meant to have. Can you believe this asshole just created this paradise to simply rent out at an overpriced rate to sucker tourist? Seriously, if I ever meet this house owner-- Sorry, gotta go, brother's here."
The idea of a low profile went right out the door when the leather-clad beef cake struggled to unlock the overly complicated gate to the back yard. I tried to help him, shouting out disconnected directions until it eventually clicked open right before he was about to lose his cool. So out of place among the VIP experience of this backyard, his brother's long strides bringing him to me in a matter of seconds. Mostly because I didn't bother to get up to greet him, "To what do I owe the pleasure of one of the great members of the greasiest boy band out there?"
It was near the quickest reaction yet as he pointed at me with such a fierce looked, "It's that attitude that prevented you from joining." He swung his legs over the back of the couch, plopping himself onto the couch a fair-good feet from myself. The amount of space he took was ridiculous. His legs sprawled out to let his unseen junk hang free in his pants, arms across the back of the couch. He looked like a man at home, and neither of us were home. Well, it was 'a' home, but this kind of life style was was far from what we had. "How'd you'd find this place?"
"Internet" I added sharply, downing the rest of my martini before pushing myself off the couch. The next look was one accusation from my brother. He knew I couldn't afford this place. "The owner shouldn't put what dates are available and what dates aren't. I've got two more days before I have to bounce."
The outdoor bar matched the rest of the roman decor, four pillars at each corner holding up a very flat roof. I was pouring in the gin when the silence broken, "When'd she kick you out?"
Go figure. My lips pulled to the side in discomfort. The marriage crumbled over two years, divorce was final six months ago, but yet, she allowed me to stay. Well, until she had enough of my criminal activity. Crime's only sexy when it's not a lifestyle. "A little over a month ago."
"I heard getting a job helps with getting an apartment." He laughed at the dramatic look I shot his way.
I shook my head before rolling my eyes, "I have a job, two jobs at that, even if one is illegal. I have a lifestyle that I like to live and haven't quite gotten the funds to live it. So for now, I'll find ways to save money, like being a home invader in paradise." Sounded like a criminal's dream, taking from the rich, giving to thyself. Plus, it tested the stupidity of the water. Maybe after this, the owner would invest in cameras.
"Look, I didn't come here to question your life choices or your circumstances. I know we don't see eye-to-eye on a lot, a lot of things." "Here we go..." "I'm not scolding you or telling you to look into the club. Don't take it personally, you really don't fit in... but, you're my little brother. And, if you want, you can move in with me. I know tearing yourself away from this style will be hard."
My breath hitched in the back of throat. Not out of an overflow of emotions or the offer. He always had a sense of kindness to him, even if we always ended up yelling and throwing punches at each other. We were close in our own way. Sharing a room in childhood never really goes away. I sighed, my lips twisted to the other side as the sunglasses slid down the bridge of my nose from looking down so long. I grabbed a bottle of the whiskey from behind the bar, and rather than taking the fresh martini, I grabbed the neck of gin bottle. Walking back over to the couch like a man walking his six paces before the shooting started, I took a seat a tad closer to my brother. Unlike him, I crossed my legs and kept my arms to myself. Except when I extend my arm out to offer the bottle of whiskey, "Thank you."
I couldn't look at him. I wasn't ungrateful for the offer; I had taken it after all. It wasn't even a blow to the ego. What happened had happened, and I was down on the cards in Vegas. Running from house to house didn't aim to help raise my empire. I waited for him to take the bottle. Once the weight left my hand, finally I chanced a look, my eyes looking over the brim of my sunglasses. He had that goofy smile on his face like the times when won a fight when we were younger and I was the one to get in trouble.
"Oh, this is going to go horribly."
"So horrible."
In sync, we lifted the bottles to our lips to chug a shot or two, but he bought his down first. I just needed a few more shots.
dodge. 30. pm for discord. get lost
dodge PST 30 Mature? yes Offline Trash Baby Admin
1 User(s) are reading this topic (1 Guests and 0 Anonymous Users)
0 Members:
NZ // 28 // Discord = AJ#9942
Greetings subordinates! It is I, your Supreme Overlord. I do all of the admin things on this site by delegating to Bex to do them for me. (It's important to note that I Bex, the REAL leader of the board FORCED this man-child to do this bio thingy under fear of divorce) You can reach me on the site Discord, by PM, Messenger Pigeon and even Messenger Velociraptor.
I also have an unhealthy obsession with Dungeons and Dragons, Critical Role, Macaroni and cheese, collectables and candy mints which are super tasty and delicious and Bex is just jealous (I Bex, hate how many mints he brings home after we visit a restaurant and he ALWAYS leaves them scattered on our desk).
I'm still writing things here because Bex didn't give me a lot of reference on what's meant to go here. Now I'm gonna list some of my favourite shows and movies. Spider-Man: Homecoming, Kingsman, Guardians of the Galaxy, The Losers, King Arthur: Legend of the Sword, Batman Beyond, The Office, Brooklyn 99, Daredevil, Punisher, pretty much any Godzilla movie, giant monster movies in general.
I read a lot of books, my favourite book series is The Dresden Files. My favourite superhero is Moon Knight. Bex have I written enough yet? Can I stop now? (Yes you can stop now, you wanker)
view accounts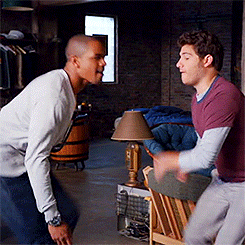 NZ // 27 // Discord = Fruity#1950
Please help me I have birthed this site and like that little shit in Alien Resurrection, it's turned on me and eaten me alive! Did you like that hella niche 90's reference? Are you like me and happen to really enjoy Alien Resurrection even more than the first three, even though your husband threatens to divorce you because of it? If you've answered yes to these questions you're probably contractually obligated to join this site now.
I like doggos and dramatic plots, fuck realism let's do some Young and the Restless shit with our plots, lets go balls to the walls, lets (in the words of Olivia Newton-John) get physical. Let's cry and rage and swear out our plots!! On the flipside happy to do chill threads too. People say I'm indecisive I have no idea what they're talking about.
view accounts