WELCOME TO A Murder of Crows
We're the largest and longest running SOA rp out there and have been active since 2013! We love and are extremely dedicated to not only the fandom but also allowing our members to expand on the universe with their own rich and dynamic plots. We are a community first and foremost and recommend guests popping into the cbox to ask us any questions. No question is too silly!
We'd absolutely love to have you as part of our crazy family, please be aware that this site is intermediate to advanced and is STRICTLY 18+ due to the mature content on this board. Happy viewing friends!
03/06
IC Month now changed to March and April 2014
10/04 New and simplified application template now up!
06/04 Glitch fixed, feel free to fill in Mini Profiles.
05/04 Working on the Mini Profile glitch, will let everyone know when it's sorted.
04/04 New skin YIPEE! Please let Bex know if you see any glitches in the skin. You have two weeks from now to sort out your character's mini profiles, my apologies for the change in avatar size! Hope you enjoy the more up to date look of AMoC!!
Welcome back; your last visit was on Today
7 TOPICS

59 REPLIES

66 TOTAL POSTS

Here you can post whenever your characters are inside a home within Hollow Falls.
8 TOPICS

53 REPLIES

61 TOTAL POSTS

This is a truck stop fondly known by the locals as the Truck'N'Fuck. It is made up of a truck stop (duh), a diner called Eddie's, a shitty Titty Bar called Muff'N'Top which is conjoined with the bar Iron Maiden and run by Bernie O'Rourke (a majority of the Sons hang out here to drink and seek Sweetbutt comfort) and Longhorn Ranch Motel.
SAMNIA's Sweetbutts all double as prostitutes and use the motel rooms in order to service their Johns. The Motel is owned and operated by Sloane Sorensen, but SAMNIA still profits from it. The MC however own the diner, the stop and the strip club.
4 TOPICS

43 REPLIES

47 TOTAL POSTS

The town is small and is extremely blue collar. A former mining town, those people still left often have very little money. The mine was the best paying legit job and once it went bankrupt and everyone made redundant, Hollow Falls was essentially lost to the rest of America, save for the truckies coming by.

The town centre is one long strip, mostly of Mom and Pop stores, the SAMNIA clubhouse is located on the strip (South end) as is Hollow Fall's PD, which is further North.

The Sorensen house atop the hill is at the South end of the town, while the Truck'N'Fuck is to the North and it is how you also exit to get onto the main road. The Mountain People are to the West and the Onguiaahra Tribe has the flatter land to the east which has the small Ehnita lake.
1 PATCHED

0 UNDERCOVER

4 PROSPECTS

A Murder of Crows WAS ESTABLISHED IN MARCH AND 2013. WE HAVE 420 ANARCHISTS AND A TOTAL OF 29053 POSTS ON THE BOARD. THE MOST PEOPLE ON THE SITE AT ONCE WAS 107 USERS.

WELCOME TO THE CRAZY ASS FAMILY:

CHARACTERS ONLINE TODAY
NZ // 28 // Discord = AJ#9942
Greetings subordinates! It is I, your Supreme Overlord. I do all of the admin things on this site by delegating to Bex to do them for me. (It's important to note that I Bex, the REAL leader of the board FORCED this man-child to do this bio thingy under fear of divorce) You can reach me on the site Discord, by PM, Messenger Pigeon and even Messenger Velociraptor.
I also have an unhealthy obsession with Dungeons and Dragons, Critical Role, Macaroni and cheese, collectables and candy mints which are super tasty and delicious and Bex is just jealous (I Bex, hate how many mints he brings home after we visit a restaurant and he ALWAYS leaves them scattered on our desk).
I'm still writing things here because Bex didn't give me a lot of reference on what's meant to go here. Now I'm gonna list some of my favourite shows and movies. Spider-Man: Homecoming, Kingsman, Guardians of the Galaxy, The Losers, King Arthur: Legend of the Sword, Batman Beyond, The Office, Brooklyn 99, Daredevil, Punisher, pretty much any Godzilla movie, giant monster movies in general.
I read a lot of books, my favourite book series is The Dresden Files. My favourite superhero is Moon Knight. Bex have I written enough yet? Can I stop now? (Yes you can stop now, you wanker)
view accounts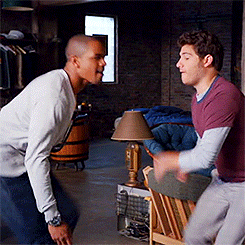 NZ // 27 // Discord = Fruity#1950
Please help me I have birthed this site and like that little shit in Alien Resurrection, it's turned on me and eaten me alive! Did you like that hella niche 90's reference? Are you like me and happen to really enjoy Alien Resurrection even more than the first three, even though your husband threatens to divorce you because of it? If you've answered yes to these questions you're probably contractually obligated to join this site now.
I like doggos and dramatic plots, fuck realism let's do some Young and the Restless shit with our plots, lets go balls to the walls, lets (in the words of Olivia Newton-John) get physical. Let's cry and rage and swear out our plots!! On the flipside happy to do chill threads too. People say I'm indecisive I have no idea what they're talking about.
view accounts